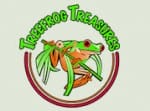 Short Business Description
Treefrog Treasures is an online retailer of military miniatures, toy soldiers, model vehicles and diorama supplies.
Long Business Description
Treefrog Treasures is a family-owned internet/mail order toy soldier and military miniature store . We offer a wide selection of 1/30 and 1/32 hand-painted metal and plastic toy soldiers; model planes and military vehicles; and one of the largest selections of diorama accessories in the business. Some of the most popular period pieces we carry include:
•American Revolution Figures
•Civil War Toy Soldiers and Diorama Accessories
•Revolutionary War Toy Soldiers
•WWI and WWII Diorama Supplies and Miniatures
•Samurai Miniatures
•American Civil War Figures
•Napoleonic Wars
We also carry the top brands in the business. Just a few of those available are:
•Britains Figures
•Del Prado Collection
•Figarti
•W. Britain
•JG Miniatures
•John Jenkins Designs
•King & Country Toy Soldiers
These are just a few of the brands and products sold in our online shop. We carry thousands of toy soldiers, military miniatures, model vehicles, diorama accessories, and more - both new and retired - and our catalog is updated frequently! Check out our products on our website, and be sure to subscribe to our newsletter to be informed about the latest product additions.
Treefrog Treasures
248 Sandstone Dr. NW
Eyota, MN 55934
(866) 394-2418