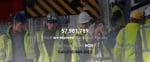 Short Business Description
Safe and thorough asbestos removal and testing for everyone.
Long Business Description
Testing for asbestos should strictly be performed by professionals who understand the different types of asbestos, where to look for it, and how to protect themselves. The type of structure and the year it was built have to be taken into consideration, along with whatever building materials were used in its construction.
When all factors have been considered, the area to be tested will be sprayed with water to keep loose fibers from getting in the air. A tool is used to cut into the substance to be tested to get a sample of fibers. A small sample of the material which might be or contain asbestos is placed in a sealable container to be sent to a lab for testing.
Home tests, while frequently advertised, can have unreliable results. Because of the dangerous side affects of asbestos exposure, the only reliable method of testing is hiring professionals who have years of experience in abatement. If you're concerned about exposure and are in the San Antonio area, don't wait – call us today for an immediate response!