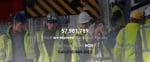 Short Business Description
Safe and thorough asbestos removal and testing for everyone.
Long Business Description
Testing for asbestos should strictly be performed by professionals who understand the different types of asbestos, where to look for it, and how to protect themselves. The type of structure and the year it was built have to be taken into consideration, along with whatever building materials were used in its construction.
When all factors have been considered, the area to be tested will be sprayed with water to keep loose fibers from getting in the air. A tool is used to cut into the substance to be tested to get a sample of fibers. A small sample of the material which might be or contain asbestos is placed in a sealable container to be sent to a lab for testing.
Home tests, while frequently advertised, can have unreliable results. Because of the dangerous side affects of asbestos exposure, the only reliable method of testing is hiring professionals who have years of experience in abatement. If you're concerned about exposure and are in the San Antonio area, don't wait – call us today for an immediate response!
Short Business Description
Contact the professionals of Benchmark Environmental Engineering to get environmental consultation services for your commercial or residential properties. We offer our clients a wide range of services, including Phase I and II Site Inspections, indoor air quality management, mold, bacteria, lead, and asbestos testing. We also provide expert witness testimony and environmental continuing education courses.
Long Business Description
With over 20 years of experience, Benchmark Environmental Engineering provides complete environmental inspection, consulting, and training services to homeowners, businesses, property owners, property managers and insurance companies in California. Our trained professionals can assist you in ensuring that your commercial or residential property is safe for both you and your occupants. For further info, call us or visit our website.
Short Business Description
M3 Environmental Consulting has provided high quality consulting services throughout the Monterey County area.
Long Business Description
M3 Environmental Consulting LLC provides economical solutions to the many environmental problems confronting industrial and commercial firms, as well as governmental agencies. Our diverse clientele includes property management and real estate firms, contractors, insurance companies, architectural and engineering firms, governmental agencies and municipalities, educational institutions, and hospitals. Our level of professionalism and experience allow us to provide the highest level of environmental consulting and customer service available.