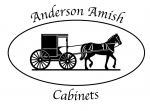 Short Business Description
Amish Kitchen Cabinets supplies and designs kitchen handmade authentic cabinetry of Amish craftsmen
Long Business Description
Business Website: https://www.amishkitchencabinets.net/
Business Address: 14545 John Paul Way Carmel, IN 46032
Business Contact #: 317-597-4750
"Amish Kitchen Cabinets supplies and designs kitchen handmade authentic cabinetry of Amish craftsmen.
Every piece is individually hand-crafted to ensure the highest quality kitchen cabinets for your home or office."
About Us
We can help you design and install a practical and elegant new kitchen with Amish kitchen cabinets, and offer a service which is both reliable and affordable. With years of experience in creating warm and usable spaces for our clients, we know what really matters, and will work with you to translate your dream kitchen into a reality. To find out more give us a call today.
Our Services
Talk to the skilled team at Amish Kitchen Cabinets if you need any Amish kitchen cabinet design and installation services including those listed on this page. For more information and to have someone come to your property to give an estimate, you'll find all you need the contact page of this website
Short Business Description
Cypress Cabinets is a Monterey County based custom cabinetry design and installation Company. Here, we offer the classic and elegant cabinets that will be the perfect choice to compliment your home style. We have a team of highly skilled interior designers to assist you in the design and selection of your new cabinetry. Checkout our website to see a variety of cabinet brands!
Long Business Description
Cypress Cabinets offers over 3,000 square feet of cabinetry in various configurations, colors and designs for your kitchen, office, bathroom, garage etc. We have strong standing relationships with all of our vendors and have the ability to offer high quality and trusted brands to our customers. We also provide local delivery and installation throughout the Monterey County area.
Short Business Description
With over 20 years of experience, Dream Construction Co. is a general contractor based company in Las Vegas. Here, we are committed to offering the highest level of quality and craftsmanship. Our team members are experts in home remodeling and look forward to offering you our experience and skills for your next project. To know more about us, checkout our website!
Long Business Description
Dream Construction Co. is a general contractor based out of Las Vegas, Nevada. As experienced, professional home builders, we handle all phases of construction from small simple projects like installing a new sink or toilet, all the way up to building a custom home from scratch. We have a strong focus on customer care and communication. We work closely with you to bring the vision for your project to life in a manner that is both feasible and cost effective to your budget. Let us turn your home remodel, addition, or new custom home designs into to reality.