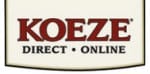 Short Business Description
Impress your friends, family or customers with a thoughtful gift of Koeze gourmet nuts,
fine chocolates, cashews or tasteful gift baskets. Guaranteed.
Long Business Description
Koeze is a retailer of fine chocolates, gourmet nuts, all natural peanut butter, and tasteful gift baskets. Orders can be placed from a catalog, ordered online, or purchased in-store. Guaranteed to please, always appropriate and always appreciated, Koeze's exceptional products include:
• All Natural Peanut Butter - Creamy, Crunchy, and Organic Peanut Butter Available
• Gourmet Jumbo "Colossal" Cashews
• California Almonds
• Chocolate Turtles
• Corporate Gift Baskets and Other Business Gifts
• Deluxe Mixed Nuts
• Gourmet Chocolates
• Unique Gift Baskets for the Holidays
• And More!
You can be confident in each purchase from Koeze, with the Good as Gold Guarantee. We guarantee that you, and everyone you give Koeze's gifts to, will be delighted with our products and service. If not, we'll make it right.
Koeze
2577 Burlingame Ave SW
Grand Rapids, MI
(616) 724-2620