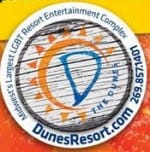 Short Business Description
The Dunes Resort provides gay friendly hotel accommodations for those visiting the charming towns of Saugatuck and Douglas, Michigan. A popular gay friendly vacation spot, the Dunes also has several gay bars, including a swim-up pool bar, on the complex property.
Long Business Description
The Dunes Resort provides a simple, comfortable gay hotel experience. Enjoy a day, weekend, or complete gay friendly vacation. Now crowned one of the largest GLBT resorts and entertainment complexes in the Midwest, The Dunes is heralded as Western Michigan's premier gay men and lesbian resorts and a pinnacle of the Saugatuck Douglas community. Gay Saugatuck accommodations at the dunes include standard hotel rooms, dorm-style rooms, as well as cabin and cottage rentals for a more private getaway or for a larger group. Additionally, the gay bars at the Dunes are some of the most popular in Michigan. Amenities and property features include:
•Cottages with shared outdoor Jacuzzis
•Air Conditioned Rooms
•Cable TV
•Swim-up Pool Bar
•Indoor Gay Nightclub
•Game Room overlooking the main bar & deck
•Entertainment All Summer Long
Visit The Dunes for your next Saugatuck Douglas vacation, and Stay Gay Every Day!
The Dunes Resort
333 Blue Star Hwy
Douglas, MI 49406
Phone: (269) 857-1401
Short Business Description
Sysco Cincinnati QA team consists of approximately 196 full-time corporate associates and 35 contracted inspectors dedicated to quality assurance.
Long Business Description
As part of the largest foodservice distribution network in North America, Sysco Cincinnati has the products and ingredients to make your signature dishes stand out. In addition to the quality products we distribute, Sysco Cincinnati also provides many value-added services and solutions to help make your business more profitable and successful.
Timing: Monday To Friday : 8am - 5pm
Address: 10510 Evandale Drive, Cincinnati, OH 45241, USA