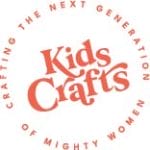 Long Business Description
Beginning as an alternative to the current school holiday shop model, Kids Crafts creates arts and crafts kits for girls with the goal of encouraging leadership, empowerment, and education through activity. Today they supply over 1.5 million custom crafts kits annually to retailers including Bass Pro Shops, Cabela's and Macy's for in-store events.
LeadHER kits provide educational information about respected female figures like Maya Angelou and Ruth Bader Ginsburg while allowing girls to express themselves with craft. InnovateHER kits encourage entrepreneurship in kids with business starter kits including cupcake toppers, keychains, and poppin' paperclips. CreateHER kits celebrate young artists with materials that let girls' imaginations run wild.