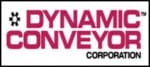 Short Business Description
Dynamic Conveyor Corporation manufactures eco-friendly, modular, and reconfigurable conveyor systems.
Long Business Description
Dynamic Conveyor provides eco-friendly solutions to companies looking for lightweight modular alternatives to traditional bulky conveyor systems.
Dynamic Conveyor has been the source of custom, durable, and portable conveyor systems for over 20 years. These quality built systems are maintenance free to meet your industry's needs and delivery requirements. Discover these lower cost modular systems:
•Flexible Conveyors
•Plastic Conveyors
•Material Handling Conveyors
•Belt Conveyors
•Low Profile Conveyors
•Incline Conveyors
•Vertical Conveyors
•Portable Conveyors
•Extendable Conveyors
•Overhead Conveyors
•Food Grade and Food Conveyors
DynaCon and DynaClean modular conveyors are reconfigurable and can be redesigned to meet your industry's specific or changing needs.
Dynamic Conveyor Corporation
5980 Grand Haven Rd
Muskegon, MI 49441
(231) 798-1483