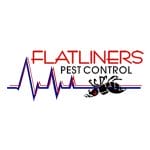 Long Business Description
Flatliners Pest Control in Las Vegas provides pest control and exterminator services for residential and commercial customers. Killing bugs and critters is not everyone's favorite topic. We're not only an experienced and licensed exterminator, but we are also a Las Vegas local small business who cares about serving our community with pride.
Short Business Description
We are a pest control company with years of experience in the pest control industry. We are known for our elite service, what that means is that our pest control technicians are of the highest degree and they are highly trained and certified to provide you with the finest pest control service. Our pest control technicians have been trained to understand the biology of the pest that they are facing to establish the correct treatment and technique to be used for an excellent result. We have a reputation for fulfilling the expectations of our customers and we take pride in that reputation, so we put our all into upholding the name in the pest control industry providing you with the best results in the area.
Long Business Description
Business Website: https://www.pestcontrolspringfield.net/
Business Address: 1723 W Sunshine St Springfield, MO 65807
Business Contact #: (417) 344-2173
Springfield Pest Control has been providing pest control services to the Springfield MO area for many years to homes and business. We are licensed and insured for our customers' protection. Our priority is to provide excellent top quality service to our customers. Our pest control technicians are fully equipped for any pest control situation and there are no challenges too big.